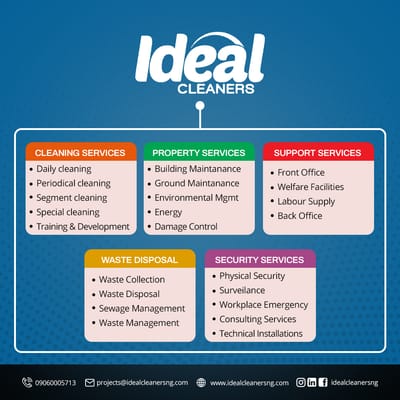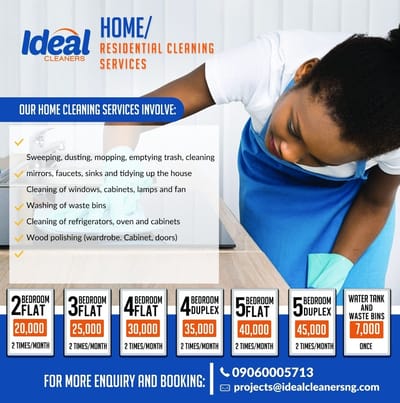 Welcome to Ideal Cleaners Limited,
a growth oriented and dynamic
c
leaning and facility management company. We provide planned/preventative and response maintenance services to a wide range of industry sectors incorporating the following trades (Building Maintenance, Housekeeping, Hospitality services, Security, Contractual staffing, Post-Construction cleaning, M & E, Gardening/Landscaping, Carpentry, HVAC, Pest control services and Waste management). We take pride in the fact that we self-perform all of our services and employ trusted staff that deliver strong work ethics with an acute attention to detail.
OUR TEAM
At Ideal, Our team have all undergone formal training that covers health and safety issues, handling chemicals and practical completion of all tasks and are staffed by experts in operations and customer service. Their primary responsibility is to ensure our clients' satisfaction on all projects. Each team is overseen by a corporate manager who, with over a decade of experience in the facility management industry is the clients' management contact 24/7 and ensures that the work is done to the Clients' specifications and satisfaction.
HSE Standards
Safety equipment and gear we use includes but not limited to safety helmet, safety boots, reflective jacket, gloves, eye goggles, earplugs, nose masks and a standby first-aid box. We take environmental concerns seriously and that is why our entire cleaning products are eco-friendly so as to minimise the detrimental effect of our work.
OUR OPERATIONS
Our solutions are designed to solve the mild and heavy dirt management problems that individuals, families and corporate organisations face. We are committed to giving our customers the best experience and world-class service they can ever get.
Our diligent management and work ethics are central to Cleaning Company service and facility management business philosophy and critical to delivering consistent, quality cleaning, janitorial, pest control, fumigation and facility management solutions services. We pride ourselves on making our management accountable to the client through direct access and interaction with our key Management Staff.
DECONTAMINATION
Our sanitisation and disinfection services are safe by using WHO standard approved sanitiser and disinfectant formulated from organic and carbonate base chemicals which are highly bio gradable unstable and therefore do not stay in the air longer than necessary. We make us of wiping, scrubbing, scrapping, spraying, pressurised and steam jets.